Our About Us page highlights the power of cohesive teamwork.
Since the inception of one man's dream, it has evolved into the collective passion of thousands of individuals. Throughout our journey, we have always measured our success by your accomplishments. Although we have made significant progress since 2003, we strongly believe that the true essence of our expedition is yet to unfold.
In 2003, S. Ravinder Singh Monga embarked on his venture into the publishing industry, driven by his visionary mindset. Recognizing it as a chance to revolutionize the educational landscape, he established Arundeep Books with the goal of transforming the learning experience for students. With his role as the Founder and Chairperson at Ravinder Singh & Sons, S. Ravinder Singh continues to lead and inspire.
As the premier educational book publisher in India, we take pride in our position at the forefront of the industry. Our range of publications includes comprehensive self help books for leading boards such as ICSE, ISC and CBSE. With a strong emphasis on relevance, our books are regularly updated, ensuring they remain current and in line with the latest educational standards. They are designed to be easily comprehensible, offering students innovative cognitive learning tools that enhance their understanding.
Our popularity stems from our astute awareness of changes within the education ecosystem, coupled with a dynamic mindset. We have successfully merged exam-focused content in print form with cutting-edge digital tools, playing a pivotal role in our achievements.
Ravinder Singh, the Chairman and Creative Director at Ravinder Singh & Sons, boasts an extensive publishing background that spans over four decades, amounting to 23 years in publishing itself. His education-focused mindset serves as the propulsive energy propelling all the triumphant and widely embraced publications presented by Arundeep Self Help. His remarkable foresight and visionary perspective have propelled Arundeep to not merely outpace their contemporaries in the publishing domain, but also secure the top spot as the favoured choice among ICSE and CBSE Board students.
Having been an ardent reader since a tender age, S. Ravinder Singh's grasp of students' requisites is unparalleled. Throughout his professional journey, he has introduced multiple book series that have ascended to bestseller status among students both in India and on the international stage.
Karandeep Singh, a distinguished professional, holds a Master's degree in Marketing and Finance, reflecting his strong academic capabilities. Building on his extensive industry experience, Karandeep became part of Ravinder Singh and Sons in 2013.
Karandeep's expertise goes beyond marketing and leadership, revealing his sharp ability to identify promising business opportunities even during tough times.
Driven by a steadfast dedication to personal growth and continuous learning, Karandeep envisions Arundeep Books as a leading force in India's education landscape. His passionate enthusiasm is directed towards establishing an exceptional educational framework for the growing student community in India.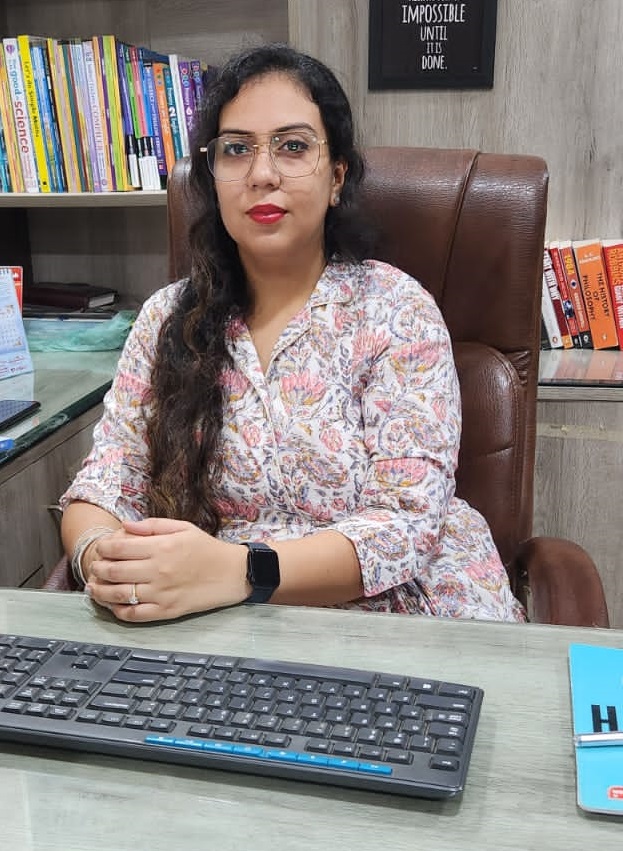 Sukhman J.K Monga
Managing Director
Sukhman attained her Bachelor of Technology degree in Information Technology from the Institute of Engineering and Technology. This accomplishment was followed by her successful pursuit of a Post Graduate Diploma in Human Resource Management. The initial step in her professional journey transpired at Netsmartz LLC, where she held the role of a Software Engineer.
In 2015, Sukhman became an integral part of the Arundeep family, wholeheartedly dedicating herself to its prosperity and growth. With a strong foundation in technology, her inclinations gravitate towards decision-making strategies firmly grounded in the realm of Digital Marketing. Sukhman ardently maintains the conviction that a workplace should encompass not only productivity but also elements of enjoyment and emotional resonance, thereby nurturing a closely-knit Arundeep family.
Sukhman's profound ardour for reading, coupled with an insatiable curiosity that propels her to explore a diverse array of geographical landscape.
Mandeep successfully earned his Bachelor's degree. With a professional background spanning more than twenty years in sales, Mandeep has effectively leveraged his talents and insights to elevate Arundeep Books to new pinnacles of success. Commencing with just one dealer twenty-three years ago, Arundeep Books now engages with over a 1000 direct dealers and distributes its publications across more than 20,000 bookstores. Alongside his passion for travelling, social interaction, and networking, Mandeep presently spearheads a team consisting of more than 25 members.